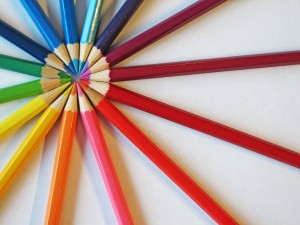 Art therapy is the process of creating art for the purpose of spiritual, emotional and psychological healing. Art therapy as a discipline was created in the 1940's in America and in Europe, but art has long been used by human beings to express ideas. The reason art therapy is effective is it allows the artist to empty their mind of thoughts to meditate on a process, express themselves about things they are aware of or passionate about and learn things about themselves and get in touch with their consciousness on a unique level.
Emptying the mind in order to meditate on a craft is beneficial on many levels. Creating art exercises the part of the brain that organizes imagery, giving the mind freedom from words, which is a heavily taxed mode of communication. This engages the mind at a subconscious level, which gives the mind the ability to access information that may ordinarily be inaccessible.
Art therapy also allows the artist to express their opinions or feelings on matters that they are aware of or passionate about. To create art is to create a statement. Art is an excellent platform for those who want to be heard by others, or it is a means of organizing ideas into images simply for the artist's benefit.
And lastly, using art as therapy can allow the artist to learn things about themselves that they did not know before. Creating art has been proven to connect the artist to lost memories and ways of thinking, as well as help them arrive at new conclusions about themselves and about life by exercising alternative parts of the brain.